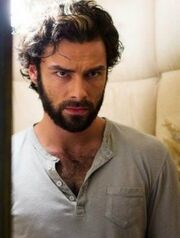 Luke Garroway (Lucian Graymark), Clary's mother's best friend, once a Shadowhunter, now a werewolf. He was once one of Valetine's best friends, but they became enemies when Valentine handed him a dagger and suggested it may be better if he killed himself. Luke proves to be the stern but loving father figure of Clary, and is fond of Simon and Jace as well. In the end of City of Glass, he and Clary's mother end up falling for each other after Luke confesses his love of many years for her.
Ad blocker interference detected!
Wikia is a free-to-use site that makes money from advertising. We have a modified experience for viewers using ad blockers

Wikia is not accessible if you've made further modifications. Remove the custom ad blocker rule(s) and the page will load as expected.