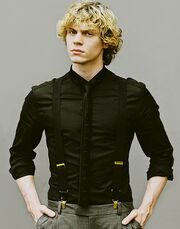 Sebastian Verlac is a Shadowhunter who appears in City of Glass staying with his cousin Aline. It is later learned that Sebastian is actually Clary's brother, Jonathan, and a spy for Valentine, posing as Sebastian Verlac. He is half-demon and half-Shadowhunter, making him the first of a race of hybrids Valentine was trying to create. He is extremely strong and can accomplish amazing feats, but is cold and heartless. He is supposedly killed by Jace, but the body was never found. He is described as being strikingly handsome, with sharp cheekbones and thick black hair, but it is later revealed that his hair was only dyed black [he is actually blond].
Ad blocker interference detected!
Wikia is a free-to-use site that makes money from advertising. We have a modified experience for viewers using ad blockers

Wikia is not accessible if you've made further modifications. Remove the custom ad blocker rule(s) and the page will load as expected.